Dr. Betty Shabazz Delta Academy
"LEVEL UP"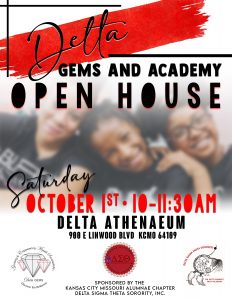 The Dr. Betty Shabazz Delta Academy is a program that caters to young women who are currently in the 6th through 8th grade. The program offers mentoring, educational activities and service learning opportunities to the participant. The Delta Academy program's major emphasis is mathematics, science and technology, and helps young women to excel and pursue careers in these areas. Anchored in the basic tenets of the Sorority, Sisterhood, Scholarship and Service, the Delta Academy also features a Book Club for the girls and a health education component that imparts awareness on the HIV/AIDS disease.
Serves the greater Kansas City Missouri Area
Meets on the 2nd Saturday of every month from 10-12 PM
Teaches life skills that are essential to a successful Future!
Helps with the fundamentals of the transformation of self:

Knowing Me
Developing Me
Preparing Me

Grants you the opportunity to:

Build lifelong relationships with your mentor/peers
Be exposed to great educational and fun opportunities
To keep busy throughout the school year with positive activities
For additional information or questions about Delta Academy contact us at deltaacademy@dstkcmo.org.